411A Butler Avenue

Mr. Weber has sold this property! The new owners will still be offering the home as a rental. During the transition, please use our regular contact form if you are interested in reserving 411A Butler Ave. We will gladly forward any inquiries on to the new owners while changing everything over!

Located at Memorial Park on Tybee Island

Only 1 block from the beach, 411A Butler Ave is also in a more central location than Dogwood Cottage, with shopping, restaurants, and nightlife a short walk away.

411A Butler has 2 bedrooms and 1 1/2 bathrooms. The master bedroom opens to a screened porch from which you can see ships passing on the horizon. The guest room has 2 queen sized beds to accomodate larger parties. The kitchen is fully furnished, including a refrigerator with icemaker, dishwasher, coffeemaker, blender, toaster, dishes, pot, pans, etc. A full-sized washer and dryer are provided. Cable and local phone service are included in your stay. Don't forget a phone card or cell phone for long distance calls. Linens and bath towels are furnished, but bring your beach towels! Enjoy hassle free private parking around back, away from the main street. We are pet friendly with prior approval.

Your 50% deposit guarantees the dates you reserve. Contact us by phone or email today and schedule your beach getaway!



About Memorial Park:

At 4.5 acres, Tybee's Memorial Park has plenty of space for relaxing and recreation. Facilities include lighted tennis, volleyball, and basketball courts, playground, restrooms, lighted covered pavilion (accomodates up to 150 people), and a picnic section with grilling area.
Next door, the Tybee Island YMCA offers daily visitors' passes.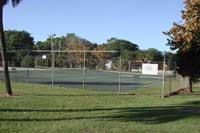 Map to 411A Butler Avenue

View Larger Map

Technical problems? Email me