Weber Beach Rentals

Charming cottage located on Tybee Island
The property is less than 1 block from the beach
Private parking available at the cottage

Use the link below to view the details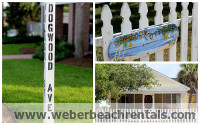 7 Dogwood Avenue
2 bedroom, 1 bathroom cottage.
Come stay for a quiet getaway!
Pet friendly with prior approval!
Technical problems? Email me